TEACHER WELCOME
Hello and welcome to Little Stars! "Like stars are to the sky, so are the children to our world. They deserve to shine!" - Chinonye J. Chidolue.
We all try our very best to shine like little stars in Nursery. We hope you all love coming to our Nursery!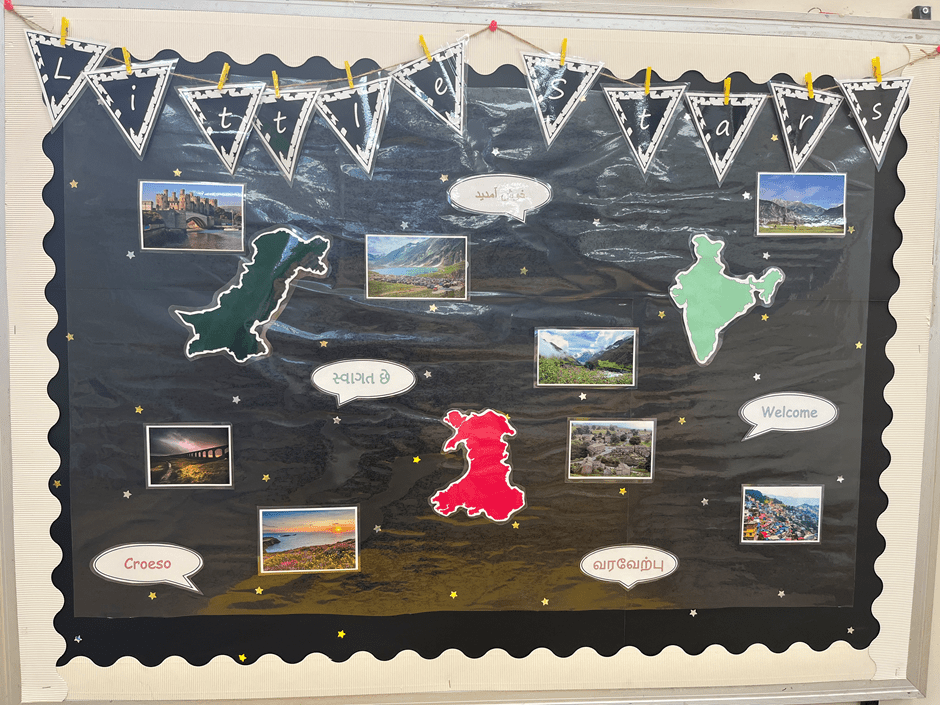 CURRICULUM
In Nursery, we follow the Statutory Framework for the Early Years Foundation Stage (2021). Children learn through play.
Your child will mostly be taught through adult led and child initiated activities, games and play.
Areas of learning:
The prime areas of learning are:
Communication and language
Physical development
Personal, social and emotional development
Literacy
Mathematics
Understanding the world
Expressive arts and design
The children learn through purposeful play.
"Education is the most powerful weapon which you can use to change the world" - Nelson Mandela.
'Learning through play' is a term used in education and psychology to describe how a child can learn, to make sense of the world around them. Through play, children can develop social and cognitive skills, mature emotionally, and gain the self-confidence required to engage in new experiences and environments.
Each area of learning is implemented through planned play experiences and through a mixture of adult led and child initiated activities. Children are encouraged to move freely around Nursery using the different areas of provision where they can select resources independently. These areas of provision are:
Areas of provision in the Unit
Themes

Construction
Small world (i.e. dolls house, people, dragons)
Creative (i.e. painting, craft)
Mark making
Mathematics
Reading
Role-play
Music
Sand
Playdough
Water
Outdoors

Who am I?
What colours can you see?
Why does ice melt?
Who is in my story?
Can I have chocolate for breakfast?
What noise do I make?
Activities are loosely based around a theme. Group circle times are used to inform and enthuse the children about the theme to stimulate their learning.
INFORMATION FOR PARENTS
SESSION TIMES:
We welcome parents to enter the classroom when dropping their children off on a morning and settling them. We are aware that this will be an anxious time for parents and children, and want everyone to feel as comfortable and confident as possible!
FIRST WEEK BACK
Children attending morning sessions will visit the Nursery for a transition morning (8:30am-11:30am) on Thursday 8th September, and children who will be attending for full days will have a transition session between 12:15pm and 3:15pm on Thursday 8th September.
MORNING SESSIONS (MONDAY-FRIDAY AM)– 8:30–11:30.
Children will start at 8:30 and need to be collected at 11:25 promptly at the end of the session.
THURSDAY & FRIDAY (FULL DAYS)-8:30-3:15
PLEASE ARRIVE PROMPTLY as your child will settle quicker into the session.
PLEASE ARRIVE ON TIME TO COLLECT YOUR CHILD. THIS MUST BE SOMEONE OVER 16 WHO IS KNOWN TO NURSERY STAFF.
Please let us know immediately if you have any concerns. If you need privacy, this can be arranged.
NEW STARTERS
Home visits will take place between Tuesday 6th September, and Wednesday 7th September.
BOOK BAGS & READING BOOKS:
Please ensure book bags are in school on Wednesdays.
Reading books are changed on Wednesdays only.
These books are intended for you to share with your child. Please read and talk about the book with your child and write a comment in their reading record.
OUR CLASS RULES AND REWARDS
In EYFS, we like to be rewarded with lots of positive praise and collect special stickers for our hard work. We use a visual representation of the behaviour policy so that the children are able to relate behavioural expectations to the symbols. The underlying theme of our strategies are based on positive reinforcement. This supports the children's development, which in turn helps them to regulate and manage their own behaviour.